INJURIES ON PROPERTY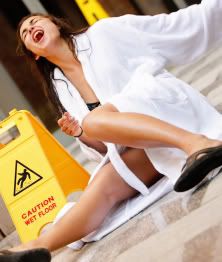 .
OWNERS ARE LIABLE FOR ACCIDENTS ON THEIR PROPERTY
An owner or person in control ("Owner") of real estate can be liable for injury or death occurring on the real property.
The duties owed by an Owner depend upon the status of the people on the Owner's property. For example, an Owner's duty to a person invited onto the Owner's property to conduct business is greater than that owed to a mere trespasser.
A jury can also find an owner responsible for injury or death for several reasons, including the property's use, the property's condition, and the criminal actions of third parties on the property. The most common injuries falling under "premises liability" include are caused by and/or described as assault, slip-and-fall, falling boxes or debris, unexpected holes or pits, defective stairs, dangerous pools, electrocution, rape, and shootings
SLIP AND FALL
Slips, trips and falls sound like minor accidents, and they can be. But under the wrong circumstances, they can also be very serious. Slipping and falling can cause broken bones, head injuries, neck and back problems and more. A fall from a height can be life-threatening or disabling. When the fall was caused by someone else's carelessness, victims should talk to an attorney to learn about their legal rights.
Not all slip and fall accidents are another person's fault, of course. But when the accident was caused by a dangerous condition on someone else's property, victims may have a strong claim. Under the law, anyone who invites others onto their property has an obligation to make sure that property is reasonably safe. If a hazard appears, it should be cleaned up within a reasonable amount of time. If it can't be cleared, a warning should be posted. Failure to do this can lead to a lawsuit.
Slip and fall cases relate to any unexpected hazard. This could include cords and cables, slippery substances, rugs and floor mats that aren't secured, holes and cracks. Dim lighting can worsen some of these conditions. On stairways and balconies, missing handrails or uneven surfaces can cause serious slip and fall accidents. Outside the building, property owners generally have an obligation to clear snow and debris from the nearby sidewalks.
Slip and fall injuries can have long-term or even life-altering consequences. Broken bones and neck or back injuries may require long-term care, and head and spinal injuries can leave the victim disabled for life. When these accidents are the direct result of a property owner's failure to clear hazards, victims should talk to a slip and fall accident lawyer right away.
WE ARE HERE TO HELP YOU.
At Taylor Solano & Associates., we fight for the rights of slip and fall accident victims. Since 2002, we have represented clients who were seriously hurt through no fault of their own. I'm proud to say we've been able to help many people recover the money they need to get medical care, support themselves and be fairly compensated for a devastating accident. If you've been hurt on someone else's property, you should call us today for a free, no-obligation consultation,CALL TODAY (510) 315-2444 or (209) 690-7075