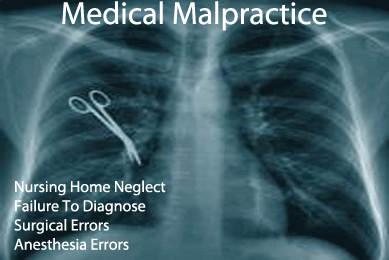 .
WHAT IS MEDICAL MALPRACTICE?
Medical malpractice occurs when a patient suffers an avoidable, serious injury or premature death due to a health care provider's failure to act according to established medical standards.
We have experience handling a wide range of medical malpractice claims, such as:
Failing to diagnose or misdiagnosing a serious condition
Making avoidable surgical errors
Failing to respond in a timely manner to a patient in the emergency room
Prescribing the wrong medication or instructing patients to take the wrong amount of medication
Failing to avoid birth injuries by providing adequate prenatal care
Providing negligent hospital care by reviewing the wrong medical records
Failing to properly address staph infections
In all these examples — and in any type of medical malpractice case — two conditions should be present if the case has any likelihood of success. First, the doctor or nurse must make a recognizable mistake. Second, we must prove with convincing evidence that the negligent party acted with willful, reckless disregard.
WE PREPARE TO WIN
At Taylor Solano & Associates, we have recovered damages on behalf of injured patients and their families in medical malpractice cases. We have the experience and legal skills to take on highly complicated medical malpractice claims.
We have access to industry-leading experts including university-based medical professors and practicing medical doctors. We prepare every claim for a favorable trial verdict complete with expert testimony to prove fault.
HOW WE CAN HELP YOU.
Our firm's medical malpractice attorneys have significant experience handling complex medical malpractice cases, including emergency room errors, surgical errors, nursing home neglect, failure to diagnose serious medical conditions, and avoidable birth injuries, brain and spinal cord injuries and wrongful death. We will apply our years of experience and legal skills in pursuit of helping you obtain a full financial recovery.
We invite you to learn more about the full range of services we offer to our medical malpractice clients. You can also find additional information about the laws and procedures involved in medical negligence cases by contacting us.
CALL TODAY (510) 315-2444 or (209) 690-7075